Whole-Person Cancer Care
Whole-person cancer care utilizes complementary therapies to combat the side effects of cancer care and help restore the quality of life for our patients.
``Managing cancer requires an approach in which all aspects of a person's life are considered``
On these pages you'll find a set of resources focused on whole-person cancer care and how to make it routine.
Through the inclusion of evidence-based therapies such as nutrition, movement, meditation and others, patients will activate their individual ability to heal as they go through cancer treatment and into survivorship.
Personalized Care Across the Cancer Journey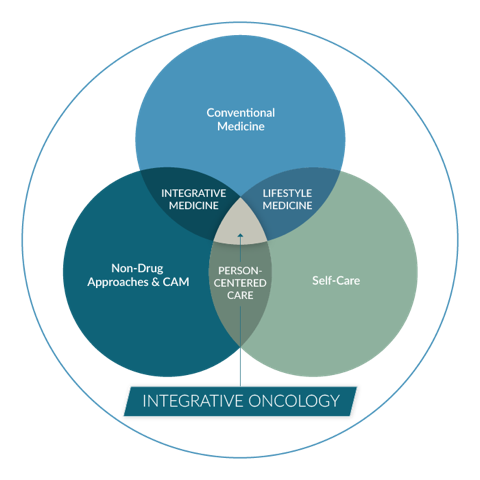 Integrative oncology supports conventional care by empowering and engaging patients to take an active and preventative role in their health. Integrative oncology combines conventional care (chemotherapy, radiation and surgery) with complementary and lifestyle therapies such as nutrition, exercise, acupuncture and yoga and supports whole-person healing.
Conventional care is needed to treat the disease and complementary therapies are there to support the individual's quality of life during and beyond treatment.
"We don't have to choose between curing and healing – although we often end up thinking we do."
— DR. TOM A. HUTCHINSON, editor of Whole-Person Care: A New Paradigm for the 21st Century
Resources for Every Step of the Journey
Our guides cover the major barriers and aspects of cancer treatment, including: