Chiropractic is one of the most popular forms of integrative health care in the United States. Half of the adults in the U.S. have had some experience as a patient of a chiropractor and 33.5 million U.S. adults reported visiting a chiropractor within the last 12 months.
Chiropractic focuses on the relationship between the structure of the body (mainly the spine) and how it functions. Chiropractic is located on the conservative end of the health care spectrum, focusing on manual treatments for conditions affecting muscles, joints, and nerves.
Chiropractors do not prescribe medication or perform surgery. The most common approach they use is spinal manipulation – applying a controlled, specific force to the spine and/or extremity joints in order to enhance joint motion, alignment, and general flexibility. Chiropractors may employ treatments beyond spinal manipulation, including:
Thermal therapies (heat, ice, paraffin bath, diathermy)
Therapeutic ultrasound
Cold laser or low-level laser therapy
Soft tissue friction, stretching or strengthening techniques (active release technique)
Electrotherapies
Relaxation and rehabilitation procedures
Neural mobilization
Corrective and general exercise
Taping/bracing
Counseling about diet, weight loss, smoking cessation
and other lifestyle factors
Increasingly, chiropractors can be found in conventional health delivery systems, including hospitals, multidisciplinary clinics, military, and veteran's health care facilities, and corporate on-site employee clinics.
What to Expect
Your first appointment will typically include a discussion of your health history and symptoms, an exam and sometimes diagnostic studies such as X-ray. At the end of it, the provider typically explains your diagnosis and recommends an individualized treatment plan that includes how long he or she believes you will need care.
Before you make an appointment, ask if your provider has specific training and expertise in evaluating and treating the symptoms you are experiencing.
Be sure they hold a license in good standing in the state in which you live. This can often be confirmed online through a state licensing website.
Tell your provider of any medical conditions you have and all medications you take – including prescription, over the counter, and/or supplements (to avoid any negative interactions between medications/supplements).
It is best to give your provider as much information as you can about your personal health practices to help ensure that the care you receive is safe and appropriate.
Review the "Choosing Wisely" patient handout, or visit SpineIQ.Org to learn more about chiropractic.
How it Works
The evidence supporting chiropractic has become stronger in recent years. A 2017 systematic review published in JAMA evaluated 15 randomized, controlled trials involving more than 1,700 patients. The authors found that spinal manipulation resulted in an objective, clinically significant improvement in pain by about 10 points on a 100-point scale – a treatment response similar to that seen with non-steroidal anti-inflammatory medications. Another review published that year in Annals of Internal Medicine found similar results. Neither found any evidence of serious adverse events.
In February 2017, the American College of Physicians released new guidelines for the treatment of acute, subacute and chronic back pain, recommending that patients use nonpharmacologic therapies (including massage, acupuncture and/or spinal manipulation) before trying medication or more invasive procedures.
If you or your health care provider would like to read more research about how chiropractic can influence a particular health condition, see the National Center for Complementary and Integrative Health, U.S. National Institutes of Health (NIH) report on the effectiveness of chiropractic.
Who Should You Trust
According to the American Chiropractic Association, there are more than 70,000 active chiropractic licenses in the United States. Chiropractors are officially recognized and licensed in all 50 states, the District of Columbia, Puerto Rico and the Virgin Islands.
In the U.S., a doctor of chiropractic (DC) has completed four to five years of doctoral-level training in a nationally accredited program that requires at least 4,200 hours of classroom, laboratory, and clinical experience. Most will also have completed a pre-med or similar program in undergraduate school – in all, at least seven academic years of higher education after high school.
Students must fulfill strict academic requirements for science-based coursework prior to entering a chiropractic doctorate program. Chiropractic training programs are dually accredited by the Council on Chiropractic Education (recognized by the U.S. Department of Education) and a regional accrediting body such as the Higher Learning Commission of the North Central Association of Colleges and Schools.
All states license chiropractors and most states designate DCs as physician-level providers. The National Board of Chiropractic Examiners (NBCE) four-part test must be passed prior to licensing, and chiropractors must complete continuing education hours each year to maintain their licenses. Some chiropractors undergo additional formal training and receive advanced certifications in radiology, sports, nutrition, pediatrics, and other specialties.
Although chiropractors are licensed, in most states they cannot write prescriptions for drugs or perform surgery.
While the chiropractic profession is strongly associated with the spine and extremities, students also receive training in physical diagnosis, including abdominal, lung, heart and even reproductive exams, as some systemic conditions can mimic musculoskeletal complaints.
The following websites can help you locate a chiropractor in your area:

You may also want to check your insurance company's website for a searchable database of chiropractors within their network that are covered by your insurance.
Most insurance plans, including Medicare and some Medicaid plans, as well as most military and federal employee plans, cover chiropractic. If your physician does not know you are receiving treatment from a chiropractor you should inform him or her. Any health care provider is better equipped to help you if they are aware of other treatments you are receiving.
To learn more about chiropractic treatment, check out this patient guide.
---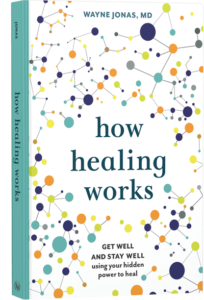 Your Health Into Your Own Hands
Drawing on 40 years of research and patient care, Dr. Wayne Jonas explains how 80 percent of healing occurs organically and how to activate the healing process.