Inevitably in life, we or a family member will get sick or hurt at some point. Sometimes it will build slowly, and other times it pops up out of nowhere. That is why understanding the role of a patient advocate will help make a stressful time more manageable. Thankfully, we now have more resources to help us out when it comes to this essential role.
Adrienne Nolan-Smith, a board-certified patient advocate, speaker, health researcher, and the founder of WellBe, has dealt with different types of health issues for both herself and a family member that required the role of a patient advocate. After these health experiences, she was called to join this relatively new field and help others.
What lead her down this path were three major life health issues that changed her whole outlook on the healthcare system and those involved in it. Learn how she transitioned from patient and caretaker to patient advocate in the video.
Mom Advocates for Adrienne During Lyme Treatment
After getting Lyme disease and going through antibiotic treatment, the doctor told Adrienne and her mother, "That's all we've got for you" in terms of treatment options, but Adrienne was still sick and suffering. Her mother took on the patient advocacy role with full force, ensuring Adrienne was getting treatment that wouldn't harm other parts of her body, and that would actually work to heal her chronic Lyme symptoms.
This was the first time Adrienne realized you can question your care providers about available treatment options and the first time she understood the importance of doing your own research and being proactive about what's best for your body. When you have a health care provider that is happy to partner with you in that way, you are on your way to building a positive patient-provider relationship.
Adrienne Advocates for Herself
As Adrienne got older, she took what she learned from her mother to advocate for herself. When Adrienne's menstrual cycle was non-existent for two years despite being pretty healthy otherwise, she decided to go to the best big city doctors to ensure her care was top of the line. Unfortunately, the cause of her amenorrhea was a mystery to these doctors, and the only suggestion they had was taking the birth control pill to induce a fake period. That treatment approach was not in line with what Adrienne wanted for herself as she wanted to heal the root cause. She preferred a more holistic approach but was seeing a provider that was hesitant to step outside of medication-only conventional treatments.
Wanting to understand what her body was going through, and advocating for her own personal preferences, Adrienne went to a naturopathic doctor. "Six months of working with a naturopath in New York City, my period came back… and it's been normal ever since. And that was a big moment for me." Working with the naturopathic doctor, Adrienne became aware that her travels abroad in high school in China that resulted in taking lots of strong antibiotics wiped out the good bacteria in her gut. She also had thyroid dysfunction, which may have been a result of the gut bacteria issues, or could have been there all along. The gut and thyroid are closely related to hormone balancing and therefore also your menstruation. Not settling for a general "band-aid" of just taking birth control pills empowered Adrienne and her new healthcare team to find that a much larger and deeper issue was at the core of the problem. By advocating for herself, she was able to get ahead of something that could have become a big complication if left untreated.
During Mother's Mental Health Battle, Adrienne Steps In
Unbeknownst to Adrienne, her mother's fierce desire to advocate for her daughter's health would be reciprocated sooner than anticipated. Adrienne's mother had a manic episode that lead to her being committed to various psychiatric facilities over three years when Adrienne was graduating from college. "The desire to heavily medicate right away is extreme, it's strong." Knowing the typical medical professional's opinion isn't necessarily the best route for healing, Adrienne researched and learned the cocktail of drugs her mother was prescribed had several side effects and could result in liver induced drug injury.
"I couldn't get her out of the claws of this system. And I was also afraid, obviously, because she would have manic symptoms return when she would try to go off some of these drugs." Adrienne researched other treatment methods and experimental options, but there was no willingness to try these things by the psychiatrist. Her mother continued to suffer on the drugs and feel awful. Eventually, her mother took her life when Adrienne was 25. This traumatic experience led Adrienne to search for a better way to navigate the health care system—one that empowers the patient and their circle of support, and helps people find and heal the root causes of their illnesses.
She learned about the new field of patient advocacy. An advocate is someone who is dedicated to your healing journey and is on your side.
Adrienne describes what a patient advocate does as the following: "Generally, a patient advocate helps people get the information they need to make decisions about their healthcare and then works with their doctors and practitioners to make sure the person gets what they need to heal and receive the best care possible. Patient advocates have emerged to help deal with the skyrocketing number of chronic illnesses and the complex and confusing conventional healthcare system."
Adrienne completed the certification process to become a patient advocate and launched her company WellBe which provides information and tools for heath empowerment, both for those figuring out and trying to heal chronic health issues, and for those who want to optimize their health and make sure they never have any!
To learn more about the elements for being an empowered patient, read the article: How Patients Can Be Empowered to Play an Active Role in Their Health. And, to watch the full five-part conversation between Dr. Jonas and Adrienne Nolan-Smith, see the videos below.
Part 2:
Part 3:
Part 4: 
Part 5:
---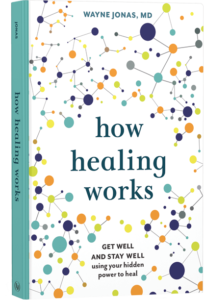 Your Health Into Your Own Hands
Drawing on 40 years of research and patient care, Dr. Wayne Jonas explains how 80 percent of healing occurs organically and how to activate the healing process.