While June may be Men's Health Month, men's health is important all year long. Let's talk about the top health issues men face and ways to prevent and treat problems. We talk about heart health, cancer risk, and an often-overlooked concern, mental health.
Know your heart health
Heart disease is the number one cause of death for U.S. men.[i]  This includes deaths from heart attacks, coronary artery disease, heart failure, and other conditions. According to the Centers for Disease Control and Prevention, 50 percent of men who die suddenly from heart disease had no previous symptoms, or at least did not report any.[ii] 
In addition, almost half of men in the U.S. have high blood pressure, also known as hypertension.[iii]  You are considered to have hypertension if your blood pressure is 130/80 or greater. Some guidelines think it should be even lower. It's a major contributor to heart disease and stroke, another leading cause of death for men.[iv]  
Prevent and treat heart problems
The good news is that you can reduce your risk of heart disease by practicing whole person health.  The Mediterranean way of eating is great for heart health. Another top-ranked eating plan, the Dietary Approaches to Stop Hypertension (DASH) diet,[v]  was designed specifically to treat high blood pressure. It's possible to lower your blood pressure within just a few weeks by eating this way.[vi] 
Moving, meditating, socializing with friends, and even petting an animal are good for your heart and blood pressure.
The American Heart Association's Healthy for Good resource offers free information on stress relief, eating well, and becoming more active in ways you enjoy. 
Apps like Hello Heart (free for Apple and Android) help you track your blood pressure and heart disease risk. You can also use the fitness tracker on your phone, such as the Health app on an iPhone, to measure steps and track your heart rate.
Understand cancer risk
The bad news: men are 20 percent more likely to get cancer than women and 40 percent more likely to die of it.[ii]  
Men's increased risk is in part due to greater participation in unhealthy activities such as smoking, the tendency to seek health care less often, and a greater presence in jobs that raise cancer risk, such as spreading asphalt, fighting wars, and working in other potentially toxic jobs.[vii] 
Lower your risk
There's a lot you can do to lower your cancer risk and increase the chances of catching it at a treatable stage. These things include: 
Asking parents and other family members if cancer runs in the family.
Seeing a health care provider regularly and asking when to have cancer screenings.
Avoiding tobacco, including cigarettes, cigars, vaping, and smokeless tobacco.
Limiting alcohol to one or two drinks a day.[viii] 
Calling your health care provider for unexplained pain, night sweats, or other symptoms instead of ignoring them.
Getting regular check-ups, even if you are not sick.
Talk with your doctor or other health care provider about the official screening recommendations for the most common cancers in men: prostate cancer, lung cancer, and colon and rectal cancer.[ix]  These may apply to you, or you may need checkups at different intervals. It doesn't hurt to ask—and it could be lifesaving.
Recognize mental health concerns
Mental health problems are still heavily stigmatized in our society,[x]  especially for men who are supposed to be tough, confident, competent, and "have it all together." 
The reality is that 1 in every 5 U.S. adults struggles with mental health—and depression affects 6 million men in the United States each year, a figure that may be underreported.[xi]  Men tend to receive less help than women, in part because it may be harder to admit they need help and support.
Admitting to being depressed, stressed, anxious or even considering ending it all does not fit the image of a strong, independent man.[x] If you were ever told "boys don't cry," or "suck it up," you may be denying the reality of your feelings, even to yourself.
Alcohol and other substances are often used to escape painful feelings. However, they have negative effects on your physical and mental well-being. Positive ways of coping include those we've written about earlier, including spending time with animals and developing new habits for whole-person health.  
Certain groups have higher risks
It's important to consider whether certain characteristics may raise your risk of mental and emotional health concerns. Did you grow up under difficult economic circumstances or struggle with a parent? Or do you belong to an ethnic, cultural, occupational or other group that is supposed to be "strong," never struggling?
Researchers have found that men from certain groups face especially strong taboos against talking about mental health.[xi]  For example, Black men who admit to struggling may be characterized as "weak" members of the community. Hispanic-Latino culture has long had a norm of machismo. Members of the military, veterans and first responders are supposed to be "tough and resilient," ready for the mission at any time. 
Since 1999, suicide rates have increased 30 percent in the United States. Close to 20 percent of those suicides have been in military veterans.[xii] This group's suicide rate is at its highest recorded level, and more than 6,000 veterans take their own lives each year. The U.S. Veterans Administration (VA) provides phone, text, and chat support 24-7, including TTY for those with hearing loss.
People who identify as LGBTQIA+ have higher mental health risks compared to others. This is in part because members of this community face lack of social support, discrimination, family rejection and fear of violence. [xiii]–[xv] 
It's important to be aware of these risks if they apply to you or someone you care about. Talk with your health care provider if you feel anxious, angry, or just "down" often.[xvi] You may want to do a mental health checkup with a therapist, join a group, or schedule regular therapy appointments as a form of self-care.
Support your mental health
Whole-person health includes care for the mind and emotions. We have free guidance on finding and working with a therapist, including how to say "no thanks" if someone doesn't turn out to be the right fit for you. Journaling to manage stress is a proven technique for improving mental health. Working with a health coach or joining a support group can help improve social and emotional issues.  
This article includes diverse, inclusive, affirming, and cost-effective therapy resources.
Learn more about symptoms and support for mental health in men.
---
References
[i] Centers for Disease Control and Prevention, National Center for Health Statistics. Underlying Cause of Death, 1999–2019.
[ii] https://www.cdc.gov/heartdisease/men.htm
[iii] https://www.heart.org/en/healthy-living/healthy-lifestyle/quit-smoking-tobacco/is-vaping-safer-than-smoking
[iv] CDC. Hypertension Cascade: Hypertension Prevalence, Treatment and Control Estimates Among US Adults Aged 18 Years and Older Applying the Criteria From the American College of Cardiology and American Heart Association's 2017 Hypertension Guideline—NHANES 2013–2016. Atlanta, GA: US Department of Health and Human Services; 2019.
[v] https://www.nhlbi.nih.gov/news/2021/nih-supported-dash-diet-tops-rankings-heart-healthy-and-healthy-eating
[vi] Steinberg D, Bennett GG, Svetkey L. The DASH Diet, 20 Years Later. JAMA. 2017 Apr 18;317(15):1529-1530. doi: 10.1001/jama.2017.1628. PMID: 28278326; PMCID: PMC5509411.
[vii] https://www.medicinenet.com/what_are_the_top_6_health_threats_for_men/article.htm
[viii] https://www.hsph.harvard.edu/news/hsph-in-the-news/panel-proposes-a-new-guideline-for-men-just-one-drink-per-day/
[ix] American Cancer Society. Cancer Facts and Figures 2021.
[x] Struszczyk S, Galdas PM, Tiffin PA. Men and suicide prevention: a scoping review. J Ment Health. 2019;28(1):80-88. doi:10.1080/09638237.2017.1370638
[xi] Mental Health America [MHA]. (2020). Infographic: Mental health for men. https://www.mhanational.org/infographic-mental-health-men
[xii] Inoue C, Shawler E, Jordan CH, Jackson CA. Veteran and military mental health issues. In: StatPearls. Treasure Island (FL): StatPearls Publishing; May 24, 2021
[xiii] Lee C, Oliffe JL, Kelly MT, Ferlatte O. Depression and suicidality in gay men: Implications for health care providers. Am J Mens Health. 2017;11(4):910-919. doi:10.1177/1557988316685492
[xiv] American Psychiatric Association. Mental health facts on bisexual populations. January 2020. Available at www.psychiatry.org. Accessed June 22, 2022.
[xv] Wiepjes CM, den Heijer M, Bremmer MA, et al. Trends in suicide death risk in transgender people: results from the Amsterdam Cohort of Gender Dysphoria study (1972-2017). Acta Psychiatr Scand. 2020;141(6):486-491. doi:10.1111/acps.13164
[xvi] Wanta JW, Niforatos JD, Durbak E, Viguera A, Altinay M. Mental health diagnoses among transgender patients in the clinical setting: An all-payer electronic health record study. Transgend Health. 2019;4(1):313-315. Published 2019 Nov 1. doi:10.1089/trgh.2019.0029
[xvii] Sagar-Ouriaghli I, Godfrey E, Bridge L, Meade L, Brown JSL. Improving mental health service utilization among men: A systematic review and synthesis of behavior change techniques within interventions targeting help-seeking. Am J Mens Health. 2019 May-Jun;13(3):1557988319857009. doi: 10.1177/1557988319857009. PMID: 31184251; PMCID: PMC6560805.
---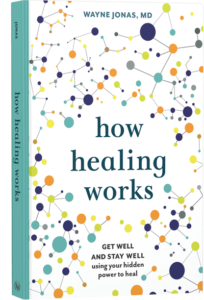 Take Your Health Into Your Own Hands
Drawing on 40 years of research and patient care, Dr. Wayne Jonas explains how 80 percent of healing occurs organically and how to activate the healing process.