Stephanie, 38, reached a financial milestone recently when she made her last debt payment. Not student debt, though. The debt was from her treatment for non-Hodgkin lymphoma—her cancer care. Diagnosed at age 30, Stephanie was successfully treated with chemotherapy and radiation and has been cancer-free for several years. However, the bills for hospital care, tests, and treatments stayed with her.
Stephanie did have insurance. But she is self-employed, and her plan has a high deductible. She was financially responsible for everything her insurance did not cover, and that added up quickly. By the time she finished treatment, Stephanie was thousands of dollars in debt.
What is financial toxicity?
In cancer treatment, toxicity refers to the ill effects of a treatment on healthy cells. Chemotherapy drugs, for example, may work well against cancer but also damage healthy cells.
Financial toxicity works the same way. You may be diagnosed with cancer while in a financially healthy position—paying your monthly bills, putting money away, using your health insurance to cover routine medical expenses. But once you need cancer treatment, things can change. Since the passage of the Affordable Care Act, routine care is often completely covered by insurance, but cancer care is not routine. Some medications cost thousands per month, and even Medicare may not begin to cover the whole cost.
The hidden costs of cancer and treatment include losing time from work because you feel sick or need to go to treatment. Some people use up their paid leave. Other costs include child care, household help, and travel for treatment.
Who experiences financial toxicity?
Almost anyone receiving cancer treatment can experience financial difficulties. According to one patient advocate, older adults, younger cancer patients like Stephanie, people of color, and those whose cancer has spread are most likely to have financial side effects to their care.[i]
Our pocket guide, "Financial Impact of Cancer," tells you how to avoid this, no matter your age, background, or cancer stage.
We talked with Raymond Wadlow, MD, a medical oncologist at the Inova Schar Cancer Institute in Virginia to gather tips that have worked for his patients and help you make the most of your care team's expertise.
Should you tell your doctor about this side effect?
Yes, responds Dr. Wadlow. If you even suspect you might experience financial problems due to your cancer care, it's important to talk with your doctor right away.
The cost of newer medications for cancer has risen more than 10 percent every year for the last five years, according to a 2020 study published in the Journal of Blood Cancers.[ii] Planning ahead and communicating clearly with your oncologist can help reduce the stress and long-term effects on your finances. Dr. Wadlow explains that while you might equate "best" with "most expensive," when it comes to treatment there are often several alternatives, some more affordable than others.
What about complementary cancer treatments?
You may feel you can't afford regular massage once you have cancer. But in fact, complementary medicine treatments such as massage, acupuncture, or yoga classes can support your immune system and help you heal.
Making room for this type of care, which is often not covered by insurance, in your budget is another reason to talk with your health-care team about managing the costs of all your cancer care.
Check out the Financial Impact of Cancer Pocket Guide to learn what to do if you don't have insurance, how to talk with your doctor, and much more about avoiding financial toxicity when you have cancer. You may also want to check out some of our other pocket guides and information.
---
References
[i] DeFerrari, L. The financial toxicity of cancer: A problem that is not going away. After 20 Years: Exploring progress in cancer treatment from the patient perspective February 6, 2021. Accessed November 4, 2021. https://after20yrs.com/2021/02/06/financial-toxicity-a-problem-that-is-not-going-away-part-1/
[ii] Rajkumar SV. The high cost of prescription drugs: Causes and solutions. Blood Cancer J 2020;10(6):71. doi: 1038/s41408-020-0338-x
---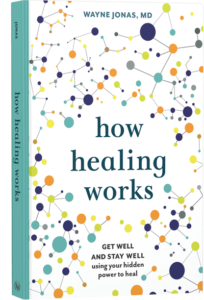 Take Your Health Into Your Own Hands
Drawing on 40 years of research and patient care, Dr. Wayne Jonas explains how 80 percent of healing occurs organically and how to activate the healing process.